COMING SOON: A Portrait of New York City 2018
COMING JUNE 21, 2018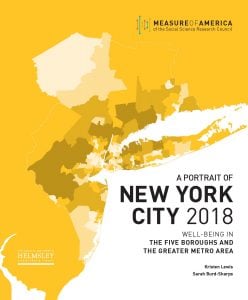 A Portrait of New York City 2018: Well-Being in the Five Boroughs and the Greater Metro Area will examine well-being and access to opportunity for different geographies and demographic groups in New York City and the greater New York–New Jersey–Connecticut metropolitan area using the human development framework and index. The report will also examine a range of issues that contribute to and/or are compounded by the well-being challenges faced by many New York City communities, such as health inequities, racism, residential segregation, and mass incarceration.
The American Human Development Index, a supplement to the gross domestic product and other money metrics, tells the story of how ordinary people are doing. The index is based on the Human Development Index developed by the United Nations, the gold standard for measuring the well-being of people in every nation.
A Portrait of New York City 2018 will present the ranked index for 170 neighborhood and town clusters in the New York metro area; for the five boroughs and for 188 neighborhood tabulation areas in New York City; for the four major racial and ethnic groups; for women and men; and for US- and foreign-born residents.
In addition to the written report, the project will include interactive maps and a photo essay.
RELATED PROJECTS: See the "mini-portraits" made by service-delivery organizations for the Community Portraits Project and explore 300+ well-being indicators on DATA2GO.NYC.