Accomplishments
On this page you will find a list of Measure of America's accomplishments, grouped under the various sections:
Publications
MOA Publications have been assigned in colleges and universities around the nation, in government, sociology, religion, and political science classes, as well as in advanced high school courses.
National Reports
State and Local Reports
Thematic Briefs
Tools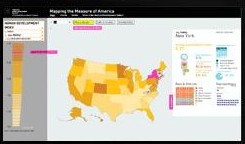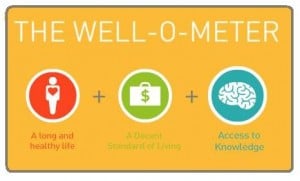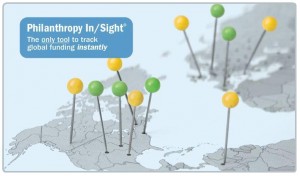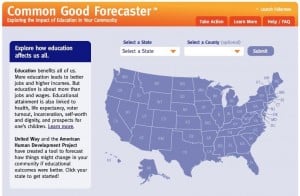 POLICY
In keeping with the project's mission to engage policymakers and constituents, MOA works with to policymakers to help inform crucial policy and fiscal decisions:
November 2013: The Helen Bader Foundation issued more than $1.1 million in grants to grassroots organizations providing services and resources to underprivileged youth living in Milwaukee, based on the Opportunity Index and Measure of America county-level calculations of youth disconnection.
2012: "Health Happens Here," statewide campaign of the California Endowment to help Californians see connections between daily conditions in their neighborhoods and their impact on health.
August 2012: The ACTION Community Project was initiated by Linda Nelson, Executive Director of Ouachita-Calhoun Literacy Council, in an effort to raise the county's low economic, educational, and community opportunity scores.
January 2012: Opportunity Iowa was launched to encourage all Iowa businesses and individuals to engage in one or more activities to enhance access to the American Dream locally and improve Iowa's index score.
November 2011: San Diego's Health and Human Services Agency, with a budget of over $1.4 billion, is using the human development framework to design and implement innovative policy changes and delivery of health care services and a healthy environment.
November 2011: The Federal Reserve System consulted MOA to expand its knowledge on the inter-connectedness of community development issues and measurement of social capital in low to moderate income communities
March 2011: MOA, in partnership with Representative Chris Murphy, gave a Congressional Briefing on the Hill on the findings of The Measure of America 2010-211.

September 2010: Pennsylvania Senator Robert P. Casey Jr. and Massachusetts Representative James McGovern introduced a bill for a streamlined approach to fighting poverty, using the American HD Index. The bill envisages American HD Index rankings, rather than criteria derived from the official government poverty line, would determine which communities could apply for innovative block-grant funds. The Index would also be used to track progress over time and gauge the effectiveness of the pilot program in tackling multidimensional poverty.
January 2010: American HD Index rankings were touted as a barometer by candidates in the mid-term congressional race in California District 20 (Central Valley).
January 2010: MOA research was cited as major factor in influencing a $2 million grant from the ARRA (stimulus bill) to fund health services in underserved communities in Fresno, California, and also in October 2009, when $3.9 million was awarded to one of Mississippi's poorest counties.
Winter 2010: Mississippi House Chairwoman Reecy Dickson held a series of hearings to pass HB842, a bill focused on delivery of state services in Mississippi's twenty poorest counties. These hearings were held in response to the findings of the Mississippi Human Development Report, also for the provision of health services to underserved communities.
December 2009: MOA research was cited in testimony before a Senate Judiciary Committee hearing on poverty and human rights.
2009: US Senator Mary Landrieu of Louisiana utilized A Portrait of Louisiana research to make the case for prioritizing mental health funding.
2009: Connecticut Department of Higher Education Commissioner has drawn on MOA research for an understanding of school priorities.
July 2008: MOA Co-Directors were invited by Senator Charles Schumer of New York, Chair of the Joint Economic Committee, to testify at a hearing entitled "How Much More Can American Families Be Squeezed By Stagnant Wages, Skyrocketing Household Costs, And Falling Home Prices?"
Classroom and Academic Use
MOA has contributed to the following:
Forthcoming, 2012: "Human Development and the Capabilities Approach in California" in the California Journal of Politics and Policy.
2012: Chapter proposing a "Tot's Index" in Global Child Poverty and Well-Being (London, UK: Policy Press).
2011: "Metrics Matter: A Human Development Approach to Measuring Social Impact" to Community Development Investments Review of Federal Reserve Bank of San Francisco.
2011: "The Measure of America," in Charities USA, the quarterly magazine of Catholic Charities USA.
2011: Chapter entitled "The American Human Development Index: Results from Mississippi and Louisiana" in Community Quality-of-Life Indicators: Best Practices (Springer), 2011.
invited piece on Carnegie Council Ethics online page on health care reform.
October 2010: "Twenty Years of Human Development in Six Affluent Countries: Australia, Canada, Japan, New Zealand,the United Kingdom, and the United States." UN Human Development Report Office (HDRO).
2009: The American Association of University Presses named The Measure of America to its list of "outstanding titles."
MOA has given guest lectures at the University of California Los Angeles, Columbia University, The New School for Social Research, Brandeis University, and more, with an increasing volume of requests to speak at other academic institutions.
RESEARCH
MOA has been cited in the following publications:
MOA's research can be found in the following public databases:
Philanthropic and Civil Society Partnerships
October 2011: MOA was invited to present at the Federal Reserve System's Community Development Capital & Risk Metrics Forum, along with labor economists on a panel on human capital.
April 2011: MOA partnered with United Way in 2009 to produce the "Common Good Forecaster," an innovative online tool for advocacy on the value of investing in education. The program has proved to be immensely popular and is currently being updated with the latest data to be jointly re-launched in new few months.
February 2011: MOA Co-Director Kristen Lewis was a keynote speaker at the Southern California Grantmakers Public Policy Conference. Southern California Grantmakers and San Diego Grantmakers have previously featured MOA Co-directors at annual conferences in 2008 and 2009 to promote the American HD Index as a tool for measuring grantmaking impact.
2011: Measure of America participated in a panel discussion on "Promoting Communities of Opportunity" with PolicyLink CEO Angela Glover Blackwell, Tulane University President Scott Cowen, and MIT Professor Xavier de Souza Briggs at the Opportunity Nation Summit.
November 2010: MOA collaborated with DC-based Spotlight on Poverty and Opportunity to organize our launch event for The Measure of America: Mapping Risks and Resilience 2010-2011, produce a podcast, and publish expert commentary.
Fall 2010: MOA organized a consortium of 15 organizations to sign an "Open Letter to President Obama's Debt Commission" on the potential savings tomorrow by investing in prevention today.
March 2010: Association of Small Foundations featured MOA Co-Director Kristen Lewis as the keynote speaker at their Katrina@5 conference in Louisiana.
July 2009: The Foundation Center licensed MOA data to overlay socioeconomic indicators on their Philanthropy In/Sight tool to better map need with giving.
May 2009: NAACP's Mississippi Black Leadership Summit used MOA research for prioritization of its future work program.
2009: The Global Project on Measuring the Progress of Societies of the OECD (a project to coordinate work on measuring well-being and quality of life) has officially recognized the MOA as a "Correspondent" for its work in the U.S.
2009: U.S. Conference of Catholic Bishops invited MOA for consultations and presentations on using the HD approach to identify levers for change.
Ongoing: Catholic Charities is reframing the work of their network of 2,500 local agencies and programs in human development terms and encouraging their chapters to use the American HD Index to assess need and progress.
Measure of America has also given numerous presentations for local, national, and international organizations, and at nation-wide events including:
October 2011: RAND, San Francisco Latino Community Foundation; San Diego Grantmakers; San Joaquin Valley Latino Environmental Advancement & Policy (LEAP) Project
September 2011: Catholic Charities Annual Gathering
May 2011: National Voluntary Organizations Active in Disaster
March 2011: The New America Foundation; UNICEF Brown Bag Series
April 2010: The Episcopal Church National Conference
February 2010: The San Francisco Foundation
July 2009: National Civic Summit
December 2008: Illinois Poverty Summit; Carnegie Council on Ethics and International Affairs
October 2008: Altarum; The Sargent Shriver National Center on Poverty Law
October 2008: The Sargent Shriver National Center on Poverty Law; The Foundation of American Communications, and more.
__________________________________________________________________________
For media and all other inquiries, contact us at: contact@measureofamerica.org | (718) 517-3720.