Services

Are you a FOUNDATION or NONPROFIT looking for better ways to set priorities and measure the impact of your work? Measure of America can help you determine areas of highest need in a range of sectors,  pinpoint key levers for change, identify indicators and metrics to measure your impact, tailor strategies, and present your results to key audiences.
Are you a GOVERNMENT OFFICIAL or POLICYMAKER looking to understand the issues your constituents face? We can assemble the evidence needed to help you design, improve, and evaluate policy approaches or programs aimed at improving the well-being and opportunities of your electorate.

Are you a CORPORATION looking for impact and data analysis? Our data analysis and presentation can help you understand local socioeconomic conditions, evaluate education or income levels of workers in a potential new locale, or make dynamic presentations about demographic and social patterns.
MEASURE OF AMERICA'S SERVICES INCLUDE: 
CREATING PERFORMANCE METRICS 
What is the impact of your organization's work?  Foundations, philanthropists, and boards of directors increasingly want to know how various inputs are translating into actual impact on the ground.  They still want to know about your activities, but now they also want evidence that something has changed as a result of those activities.  We can help you design and implement performance metrics, from identifying key indicators and establishing the baseline to tracking progress and presenting the results.
HUMAN DEVELOPMENT REPORTS
Measure of America partners with community foundations, civic organizations, and corporate social responsibility departments to produce innovative in-depth analyses of communities. Reports feature Measure of America's original life expectancy calculations and the American Human Development Index, utilizing the latest official government data available.
Reports zoom in to focus on relevant thematic topics and geographical areas ranging from metro areas to congressional districts, counties to states, depending on the constituents and data needs of partner organizations. To learn more about specific reports, visit our full list of publications or click on the icons above.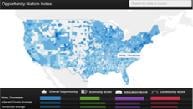 INTERACTIVE ONLINE TOOLS 
Measure of America works closely with clients to identify the right data points to create innovative interactive tools for engaging audiences of all ages. Tools are excellent pedagogical tools to encourage data exploration, and are a key thematic resource for audiences ranging from the general public, the media, community advocates, and researchers.
Measure of America's numerous interactive tools allow users to map indicators in the United States, calculate life expectancy, measure the impact of education, and more. Visit the Interactive Tools page to start exploring, or click on the selected tools above.
INDIVIDUAL SERVICES
DATA COLLECTION: We create customized data sets, develop indexes and scorecards, and identify appropriate metrics using official federal, state, and local data and qualitative surveys.
DATA ANALYSIS: We specialize in sophisticated modeling and multivariate analysis techniques and use them to uncover trends, project future change, and communicate the story the numbers are telling.
DATA VISUALIZATION & COMMUNICATION: We create interactive tools and online mapping programs that are both methodologically rigorous and accessible to the general public.
WRITING SERVICES: We transform complex concepts and arguments into powerful narratives told in accessible language.
TRAINING: We design and deliver training in how to use Measure of America and other data for understanding, analysis, agenda-setting, community mobilization, needs assessment, and advocacy campaigns.
Measure of America's services include data analysis and communication in areas related to well-being and access to opportunity in communities across the nation. Measure of America's expertise include demographics, economics, health, education, environment, politics, and criminal justice, among others.  Our products empower our partners with detailed, fact-based portraits of their communities, constituents, and customers.
Email contact@measureofamerica.org to discuss your project with Measure of America.