Building Bright Futures for Youth in New Orleans
LAUNCHED NOVEMBER 17, 2022

FULL REPORT | INTERACTIVE TOOL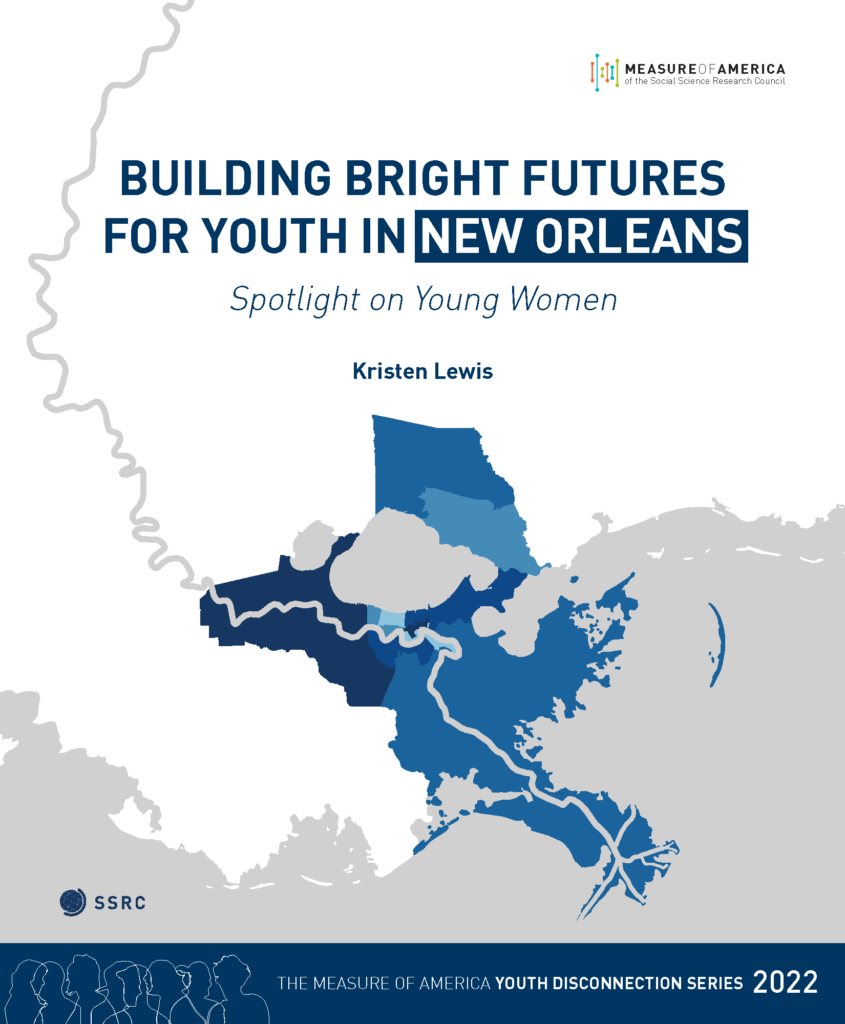 Building Bright Futures for Youth in New Orleans: Spotlight on Young Women provides an in-depth look at youth disconnection in Greater New Orleans (the New Orleans metropolitan area). The report presents 2020 youth disconnection rates for the metro area as a whole as well as by gender, race and ethnicity, parish, and neighborhood cluster / public use microdata area (PUMA). The new report also has a special focus on young women—particularly young mothers—who Measure of America's research shows face unique barriers to completing their education, building their careers, and accessing critical health care. The report contains exploration of issues related to youth disconnection in New Orleans as well as conclusions and recommendations informed by collaboration with local stakeholders and an advisory group comprised of young adults in New Orleans.
Disconnected youth are young people between the ages of 16 and 24 who are neither working nor in school. Here in the United States, organizations that work with this population began to use the term "opportunity youth" as a more optimistic phrase "that calls attention to the opportunities these young people seek and that should be opened up for them."
The youth disconnection rate in greater New Orleans in 2020 is 15.2 percent, or 20,100 young people. The New Orleans metro area has a lower disconnection rate than Louisiana as a whole, which has the third-highest disconnection rate among US states and in 2020 has a disconnection rate of 16.7 percent.
KEY FINDINGS:
The gap between white and Black youth disconnection rates has narrowed over time.
The disconnection rate for young women in New Orleans has been increasing since 2016.
Girls and young women in greater New Orleans are less likely to be disconnected than boys and young men, 13.3 percent versus 17.3 percent. The gender gap varies by race and ethnicity, however, with Latina and Black young women having the second- and third-highest rates, after Black men.
KEY ISSUES DISCUSSED IN THE REPORT:
Covid-19's Impact on Young New Orleanians
Characteristics of Connected and Disconnected Youth in New Orleans
Youth Disconnection by Place
Youth Disconnection over Time
The National Context
Limitations of the Data
ISSUES DISCUSSED AS PART OF THE SPOTLIGHT ON GIRLS AND YOUNG WOMEN

Early Motherhood
Domestic Responsibilities
Occupational Segregation
Wage Inequality
Gender-based Violence
School Discipline and Incarceration
The report is available in PDF form here.