OurHome.NYC

Interactive Tool to Measure Well-Being Among NYCHA Residents
Access the tool here.
OurHome.NYC is a free, easy-to-use online mapping and data tool that depicts the relationship between health, as measured by life expectancy, and housing across more than 300 New York City Housing Authority (NYCHA) developments. NYCHA residents, policymakers, and community-based organizations can view and compare over 150 health-related indicators to make informed decisions, advocate for change, and better understand a development or neighborhood.
OurHome.NYC features life expectancy estimates produced by the U.S. Small-Area Life Expectancy Estimates Project (USALEEP), a partnership of the National Center for Health Statistics, the National Association for Public Health Statistics and Information Systems, and the Robert Wood Johnson Foundation. Measure of America created this tool with support from the Urban Institute, using funds provided by the Robert Wood Johnson Foundation. We thank them for their support but acknowledge that the findings and conclusions presented in this tool are those of the author(s) alone, and do not necessarily reflect the opinions of the Urban Institute or the Robert Wood Johnson Foundation.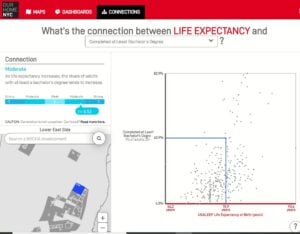 A snapshot of OurHome.NYC, looking at the relationship between life expectancy and education
For more information: contact@measureofamerica.org