State of the Congress 2013
LAUNCHED JANUARY 2013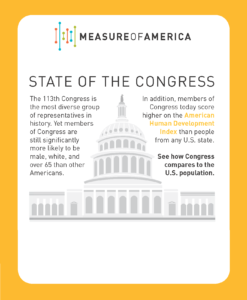 The 113th Congress is the most diverse group of representatives in history. Yet its members are still significantly more likely to be male, white, and over 65 than other Americans.[i] And in terms of basic well-being and access to opportunity, members of Congress are far ahead of the average in earnings and education but lag in life expectancy.
How representative are our representatives?
HUMAN DEVELOPMENT: Members of the 113th Congress score better on the American Human Development Index than people from the top-ranked U.S. state, Connecticut—7.68 out of 10.[ii]
The American Human Development Index is a measure of well-being that combines three central building blocks of a life of choice and value—health, education, and earnings.
HEALTH: The average American can expect to outlive the average member of the 113th Congress by more than one and a half years.[iii]  The disproportionate number of men (the world over, women live longer) and dearth of Asian Americans and Latinos, the racial and ethnic groups that live the longest, pull down the average Congressional life span.
EDUCATION:

 Over 95 percent of members of Congress have completed a bachelor's degree or higher; only 28 percent of the general population has.[iv] While 0.6 percent of the U.S. adult population are lawyers, 41 percent of the 113th Congress are. Members of Congress are sixty-eight times as likely as all American adults to have practiced law.[v]
EARNINGS: Median annual earnings, the typical wages and salaries of American workers ages 16 and older, are $29,000. Median earnings for members of Congress are $174,000. All Representatives and Senators earn this amount except for the Speaker of the House, President of the Senate, and majority/minority leaders of the House and Senate. These figures include only salaries, not outside income, assets, allowances or benefits.[vi] Put another way, members of Congress earn six times what the typical worker earns annually.
__________________________________________________________________________
For media and all other inquiries,contact us at: contact@measureofamerica.org | (718) 517-3720.
---